Stay safe in the bathroom
You can count on us to help you stay safe while you're in the bathroom. Bathrooms can be slippery and dangerous, especially for disabled and elderly individuals, so work with us and we'll make sure you have all the safety supplies you need.
Keeping you safe in your bathroom
You can find everything you need, so put our professional service and dedication to work for you. We take pride in helping you or a loved one stay safe, so call now to learn more.
Find everything you need here
You'll get the best items for your bathroom, including:
Shower chairs

Raised toilet seats

Suction grab bars

Transfer benches

Commodes
No matter what size of bathroom or shower you have, you can get the supplies you need from us.
Work with a caring team
Give us a call today to learn more about our large inventory of excellent bathroom safety items. Don't let a slip and fall hurt you or a loved one, get the best supplies from top-notch brands like Invacare and Carex. Stop in and find out how we can make your bathroom safer.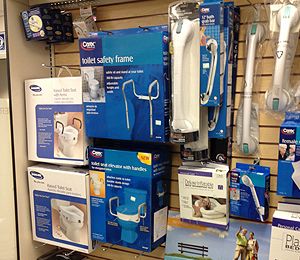 Senior Discount 10% OFF